COVID Conversation Series
The California Immunization Coalition in partnership with all four California AAP Chapters will be hosting a series of informal webinars over the next several months to prepare the California medical and public health community for the release and distribution of upcoming COVID-19 vaccines. These COVID CONVERSATIONS will focus almost exclusively on the emerging information on COVID vaccines. 

These conversations will be relatively informal and will last an hour. Each speaker will present for approximately 15 minutes on a topic and then we will hold a question and answer session which will be curated by a moderator. We will have two speakers for each hour session.
We are also accepting questions in advance of the webinar to help us and the speakers prepare. If you have questions please submit them below.
Featured Speaker:
Featured Speaker:
Meg Dorsey RN, PHN
See full bio here.
Featured Speaker:
Christopher Longhurst MD, MS
Program 1, 2, & 3 Recordings Available Below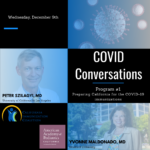 Featured Speaker:
Yvonne Maldonado MD, FAAP, FPIDS, FIDSA
Featured Speaker:
Peter Szilagyi MD, MPH,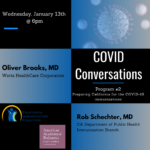 Featured Speaker:
Oliver Brooks MD,
Featured Speaker:
Robert Schechter MD, 
COVID-19 California Updates
California's distribution of COVID-19 vaccines will be guided by the following overarching principles:
The vaccine meets safety requirements
The vaccine is distributed and administered equitably.
People with the highest risk of infection will get the vaccine first.
Community stakeholders are brought in from the outset for transparency
A safe and effective COVID-19 vaccine will be one of the most important tools to end the COVID-19 pandemic. California will be transparent, careful, and above all, equitable in its vaccine distribution. The state will provide a COVID-19 vaccine to everyone in California who needs and requests vaccination.
For more information:
COVID-19 Health Equity Pilot Projects RFA
The COVID-19 Health Equity Pilot Projects RFA is now live on the Office of Health Equity (OHE) RFA Webpage and the Grant Portal Webpage. The Information Webinar will be taking place on January 20, 2021 from 1-3 PM. The submission deadline is 5:00 pm  March 2, 2020.
Summary:
The California Department of Public Health (CDPH) Office of Health Equity (OHE) will administer $5M from the Centers for Disease and Control Epidemiology and Laboratory Capacity Grant (totaling $499M) to ~16-30 community-based organizations (CBO) led by and serving communities facing inequities in COVID-19 impacts and infection. This funding is intended to advance the State's work to close racial, ethnic, and other disparities related to COVID-19 and associated chronic conditions. CBOs will use the funding for pilot projects to reduce underlying inequities in the social determinants of health that have contributed to disproportionate harm from the Coronavirus among certain communities. CBOs in Los Angeles County, which includes City of Long Beach and City of Pasadena are ineligible to apply. CBOs outside of California are also ineligible to apply. 
Centers for Disease Control and Prevention
General Information on Coronavirus (COVID-19) disease and prevention.
CDC – Guidance Documents – an ongoing list of COVID-19 guidance documents for public health, health care professionals, community leaders, employers, educators, care providers, consumers, and more.
Covid-19 Vaccines & Mandates - Dorit Reiss, Ph.D, LLB
One of our most valued CIC partners, Dorit Reiss, a Professor of Law at the University of California Hastings Law in San Francisco has created this educational video to discuss legal mandates relating to vaccines and what we could see happen in regards to COVID-19 vaccine mandates.
The National Academy of Sciences, Engineering and Medicine  facilitated a task force of experts who met over several months to develop a framework for equitable allocation of COVID-19 vaccine when available to the public:
Framework on Allocation of COVID-19 Vaccine –  an overarching framework for vaccine allocation to assist policymakers in the domestic and global health communities in planning for equitable allocation of vaccines against Severe Acute Respiratory Syndrome Coronavirus 2 (SARS-CoV-2). The expectation is that this framework will inform the decisions by health authorities, including the Advisory Committee on Immunization Practices (ACIP), as they create and implement national and/or local guidelines for SARS-CoV-2 vaccine allocation.